IPS 480*800 4.3 Inch UART screen TFT Lcd Module /RGB Interface with Capacitive Touch Panel
Product Detail
Product Tags
| | |
| --- | --- |
| Product  | 4.3 inch URAT touch LCD display/ Module  |
| Display Mode | IPS/NB |
| Resolution                    | 800*480                |
| SurfaceLuminance | 380 Cd/m2 |
| CPU | ARM Cortex A7 Singlecore isthe highest 1.2GHz Frequency          |
| Memory           | SPI FLASH 128mb |
| Run the system                  |  Linux3.4         |
| Operating current 240mA | 240mA |
| Input voltage        |  DC5V |
| Place of Origin   | Shenzhen, Guangdong, China  |
| Touch Panel | YES |
Interface performance parameters
Parameter 

 Minimum 

 Typical value 

 Maximum

 Unit

baud rate  

 

115200

 

bps

UART-RXD 

3.0

3.3

3.4

V

UART-TXD

2.0

3.3

5.0

V

Interface level  

3.3V TTL level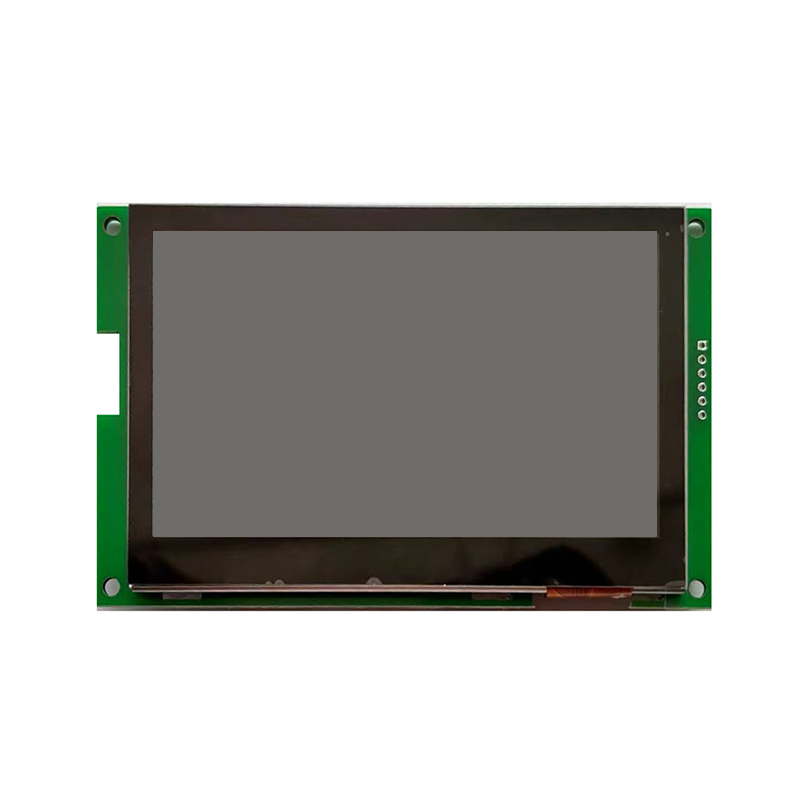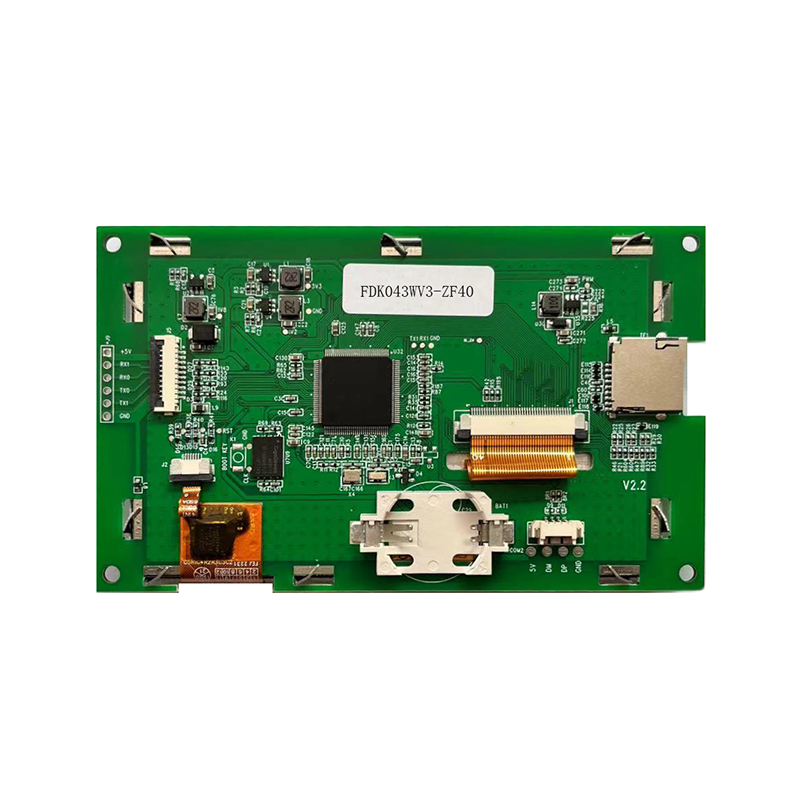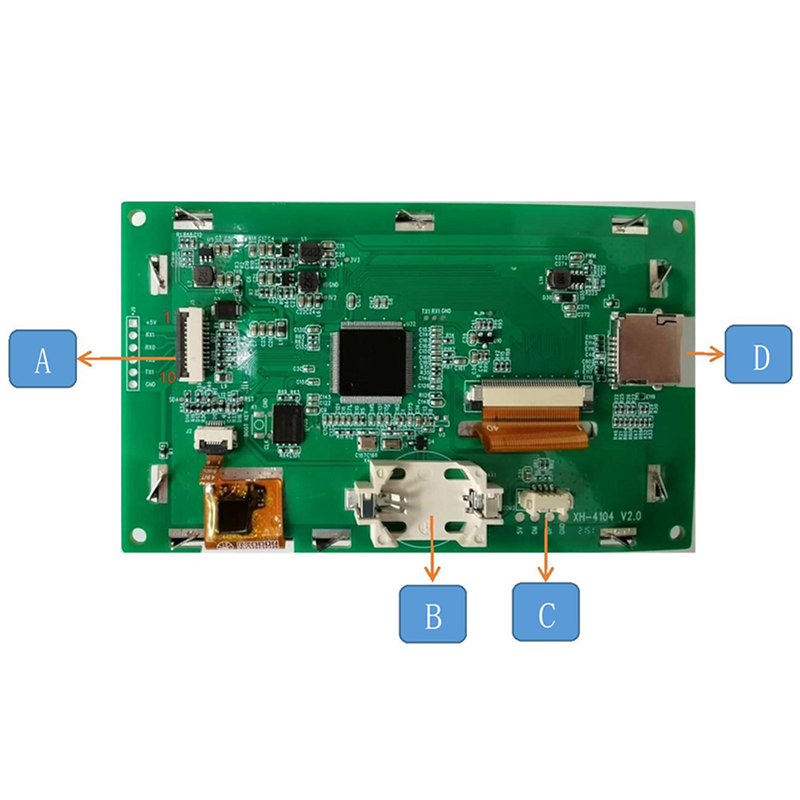 | | | |
| --- | --- | --- |
| NO. | definition | Note |
| A | Power outlets | Power supply, UART communication |
| B | RTC  Battery socket | RTC Power supply battery outlet     |
| C | USB OTP | USB OTP  connector |
| D | Deck TF Read  deck |        |
Structural dimensions:unit(mm)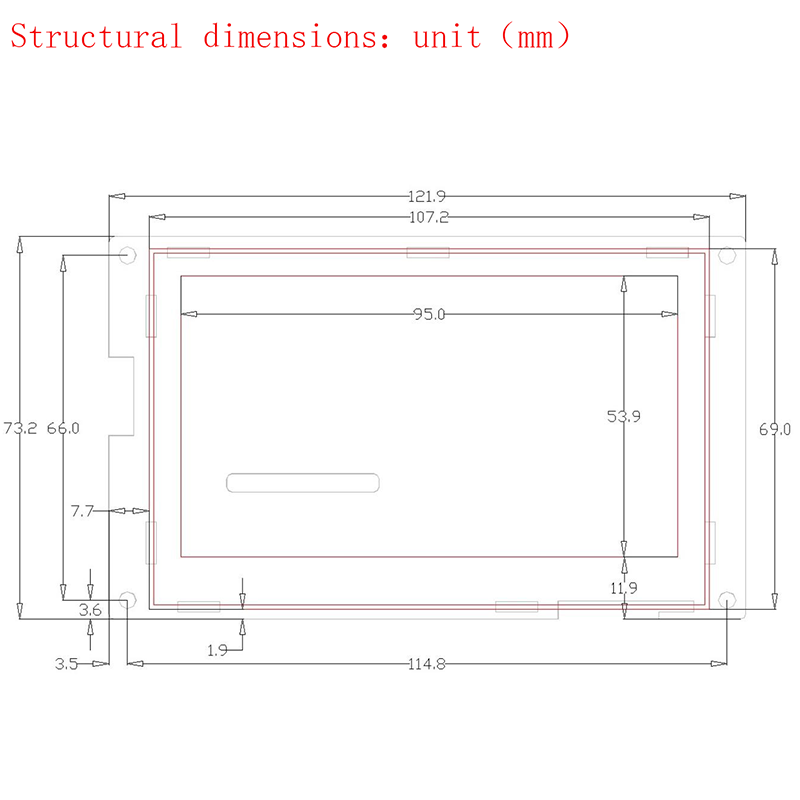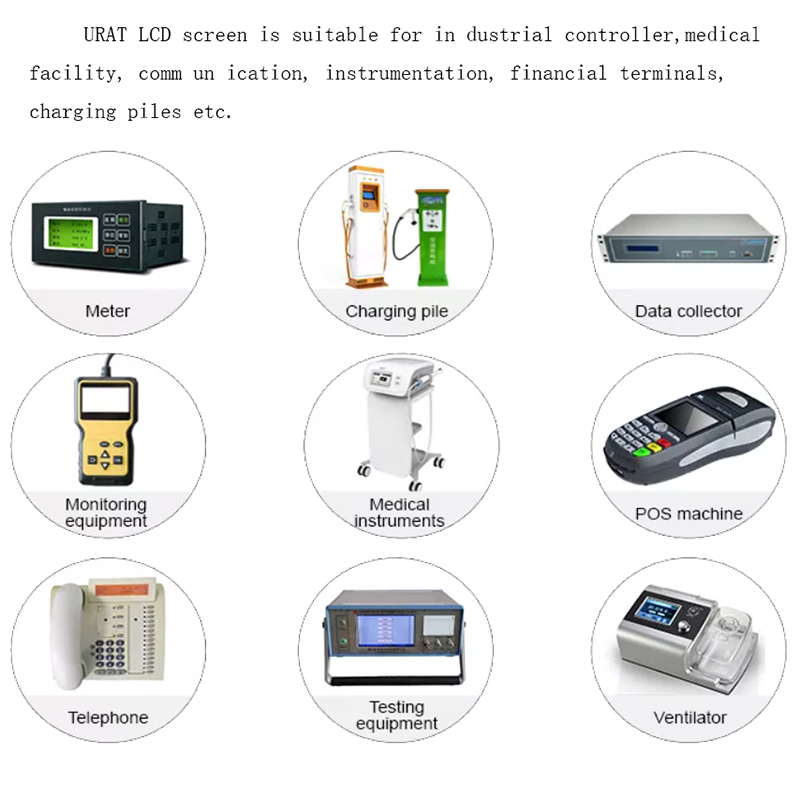 ○ To prevent open flames, high temperatures and collisions, do not store in rain or wet places.
○ During debugging and use, improper operation may cause damage to the equipment.
○ This device can be used continuously.
○ Do not turn on and off frequently during work, it is strictly forbidden to knock on the equipment, the above behaviors may damage the equipment and accelerate the aging of the equipment.
○ Handle it gently.
Clean – Wipe clean with a soft cloth and do not use chemical solutions such as alcohol.
Voltage – The device uses 5V DC.
Energy consumption - the power consumption of this product is extremely low, and the total power of the whole machine is not more than 2W. When not in use for a long time, turn off the power and unplug it.
Environment – Do not expose this product to moisture, rain, sand, or places with excessive temperatures.
Storage and use (heating equipment or under sunlight).
Note: When the device is working, please place it in a ventilated, dry place without strong vibration. 
◆ relative humidity≤80%。
◆ Storage temperature -10°C ~ +60 °C。
◆ Use temperature 0 °C ~ +40°C。
◆ Pay attention to anti-static treatment during assembly and transportation。
◆ When the whole machine is assembled, do not be subjected to heavy pressure。
◆ In order to achieve better EMC results, shielded wires are used as much as possible, and magnetic rings are conditionally worn on the wire close to the machine end.
Shenzhen Allvision Optoelectronics Technology Co., Ltd. was established in 2014,focuses on theR&D, production and sales of TFT color LCD screens and modules and LCD screen touch.We have our own modern automatic production equipment and professional management, research and development and production team., mainly offer the customization service to the customers who need small and medium size color LCD modules.
Our company's main products are 2.0"/2.31"/2.4"/2.8"/3.0"/3.97"/3.99"/4.82"/5.0"/5.5"/…10.4" and other small and medium-sized color LCD modules.  Our products are widely used in consumer electronics, financial electronics, communication electronics, intelligent home appliances, instruments and meters, industrial control, automotive electronics, culture, education, sports and entertainment and other industri
1. Quality
Quality always first. Almost every buyers will say P&O care about the products quality most.
2. Samples and small MOQ
We will support our customers with cheap samples for test. All the lcds can be ordered from 1 piece.
3. Fast shipping
We have about hundreds of routes shipped all over the world. Our transportation partners work professionally for cost fairness. Usually our goods will arrive within 3 to 7 working days from the date of shipment.
4. Customize
We help different customers with different lcds. Producing by our own lines, we can satisfied our buyers. If you want customize please kindly inquiry us for details.
1. Equipment presentation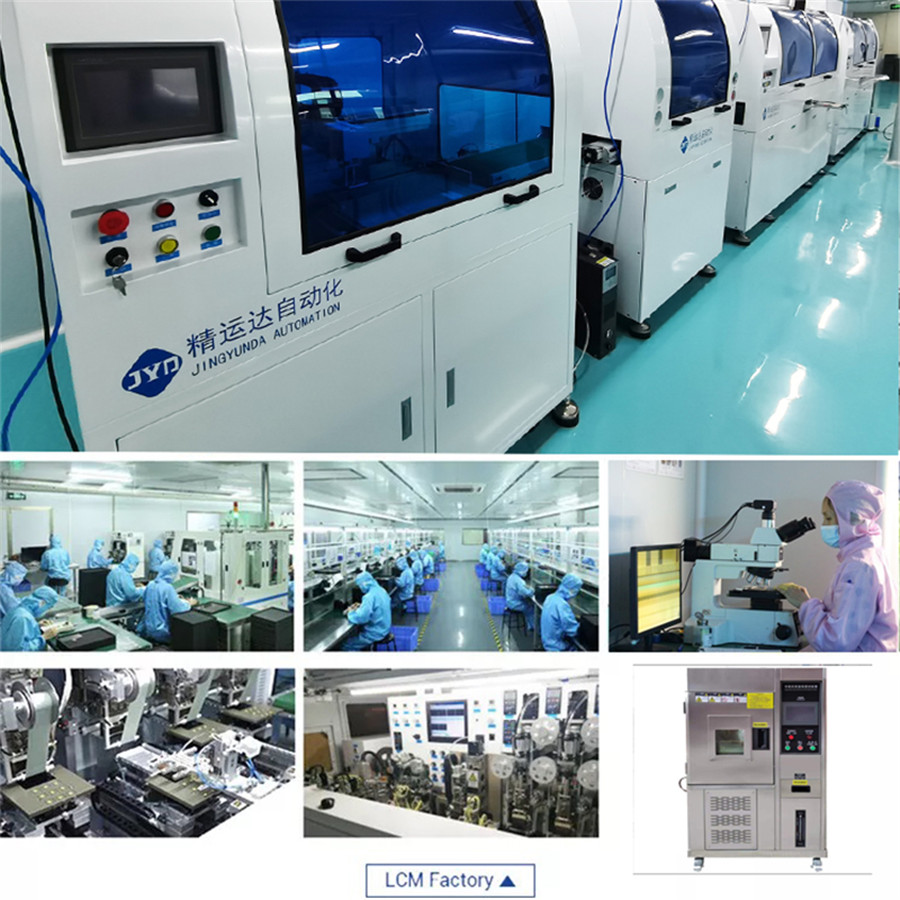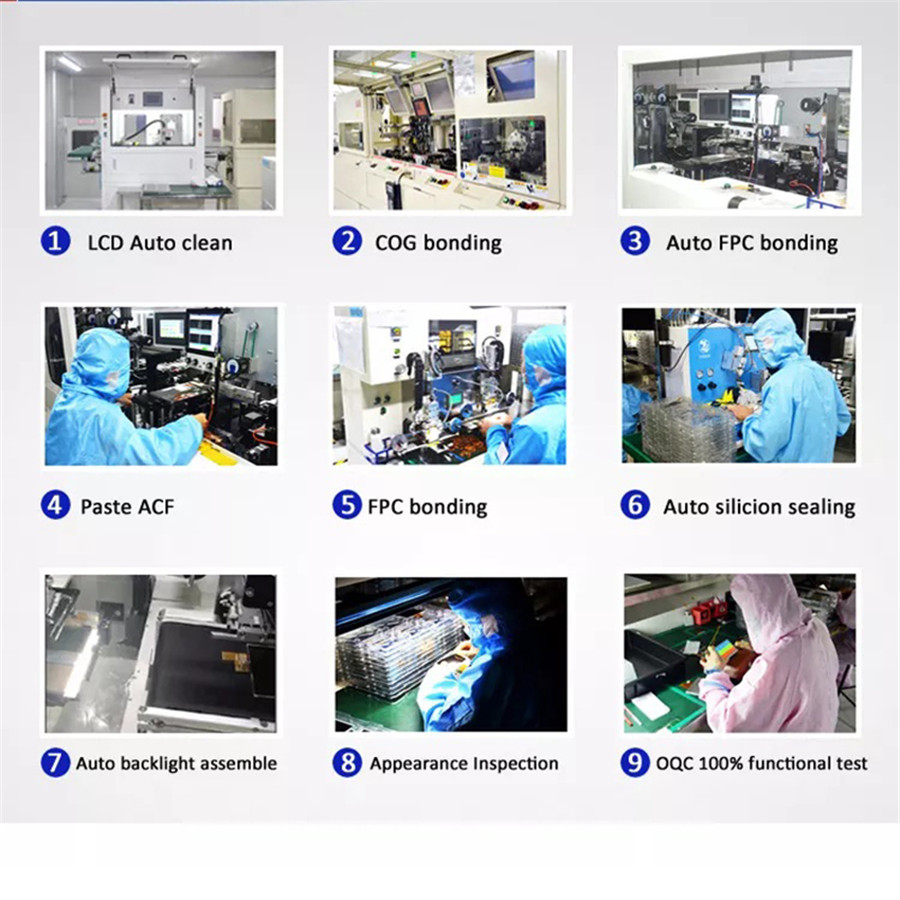 ---
Previous:
Wholesale Price 4.3 inch capacitive/resistive/CTP/RTP/customized/custom touch screen for TFT LCD module/display/panel
Next:
Best Price for IPS 2.0′ LCD Module IPS Full View 2.0 Inch TFT Display Module RGB&MCU&Spi Display Color 240*320
---
Write your message here and send it to us